Focus on Heat Embossing with October Card Kit
Flora Farkas
19/10/2017 03:31:21 PM
Hi, Vladka here again and welcome to my second post where I used Pink and Paper October Card Kit. This time I used great embossing powder and stamps which are part of the Kit and also white Neenah Cardstock to create card base and a panel and also to create a little box.
Let start with a card with the one Iris flower. I took a panel and stamped flower together with the leaf and »Thanks« word with sticky ink and embossed it with Altenew Crisp Embossing Powder Golden Peach. This powder is so beautiful and this is why I leave my card so simple. I´ve glued the panel on 5,5 x 4,25 card base then and finished the card.
And now something about a little box. First I´ve cut two rectangles, one slightly smaller than another one. Here are actual sizes: 4 7/8 x 3 1/2 and 3 5/8 x 4 1/2. Bigger was meant to be for the top of the box and smaller for the bottom. Then I´ve made score lines on 0,5 inch from the edge on all of the sides and cut flaps on all 4 sides like shown on the photo. 
Then I put adhesive on all these flaps and fold them up to assemble the box. But, before I assemble the top of the box, I stamped the flower and the leaf with the sticky ink again and embossed it with the same Golden Peach embossing powder. Then I assemble also this part. For the finish touch I've added also the label (it is also part of the Kit) and because it was gold and white I've took both pieces apart and embossed the golden piece with Golden Peach embossing powder and put it back together. So I get the perfect match and box was finished.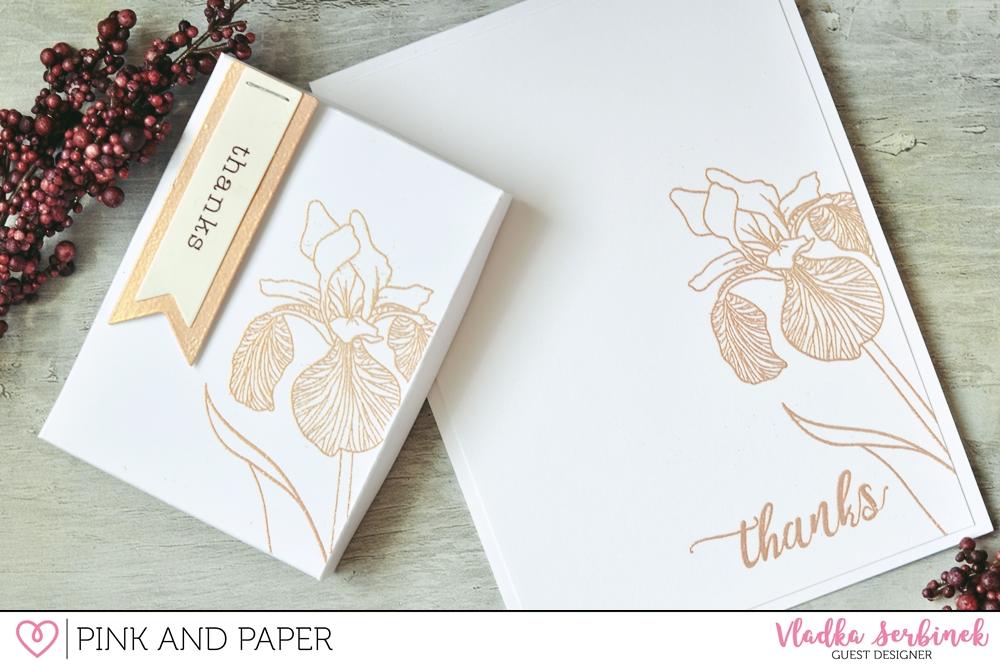 Because I have fun with this, I create two more cards. On the white one, I stamped additional flower on the left side and did the same on the second card, but this time I used green panel. This paper is also part of the Card Kit. Before I glued everything together, I've cut off the strip between, glued it on the white strip which was a little bit wider. Then I glued the top and the bottom piece of green paper on the card base and did the same with the strip for which I used foam tape. 
Check this Card Kit, is really great and you will have a lot of fun with it.  Thank you and have a great day! Vladka
Don't forget the follow Vladka on Instagram, Facebook, YouTube and check out her blog as well.