Party Animal card made with September 2017 Card Kit
11/09/2017 05:41:20 PM
Hi Ladies! I am so happy and excited to introduce you our firs card maker guest designer Kaja Vezenšek. She is a talented card designer from Slovenia, I am in love with all of her cards. I asked few question from her so we can get to know her better. ;-)
Tell us a little bit about yourself and how you got started with crafting:
My name is Kaja, but I go as Kajcyika crafts in the crafty world. I have been into crafting since I was little, but I never had time to really focus on my creative side. Now, I am a student at a local university and since I study maths and finances I just felt like I needed a relaxing hobby, so I could turn off my brain after a busy day. I found it and I started my cardmaking journey a bit more then two years ago. I would define my style as clean and simple or clean and graphic. I could be in my craftroom just coloring for hours. :)
Why do you like cardmaking the most?
I like cardmaking because it let me express my self in a way that nothing else can. Also, there are so many kind people in the crafty world  and I really think that kindness and giving is an important thing newadays. 
Who are your favourite cardmakers?
It's hard to say who is my favourite, because I think that everybody has its own style and I find every single card maker inspiring.
What are your top 5 favourite products and tools?
I will have to go with Misti stamping tool, Sizzix Big shot, Scissors, White gel pen and black inkpad (usually versafine Onyx black)
Show us your three favourite cards you created!
Hi there,
It's Kaja from Kajcyika crafts and I honoured to be guest designing for Pink and Paper today! When Flóra first told me, they will be making a Card Kit I was over the moon! I love them and there is always so many different things you can do with all the stuff included.
First, let's take a look at all the things you get in the kit! Here is my unboxing video:
Today I will show you a simple card using supplies from the Pink and Paper September 2017 Card Kit. Take a look:

First, I stamped out the images from the 'Wild ones' set in Altenew Permanent Black Ink. The ink is alcohol marker friendly, so I took my markers and coloured them in. I thought it would be cute if the giraffe had a party hat, so I stamped it out, coloured the bottom part and put a little yellow ball that you get in the embellishment pack on top.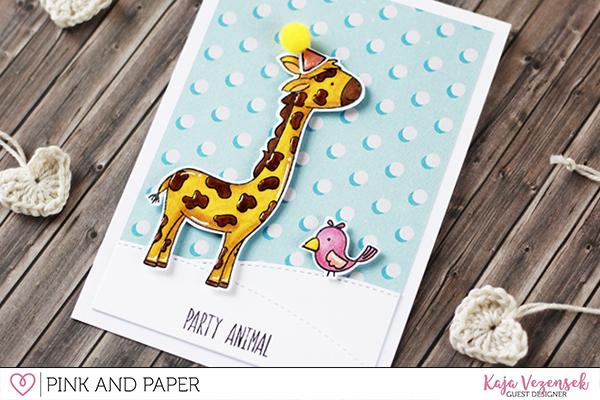 I flipped through the paper pack and I fell in love with this blue paper with white dots, so I knew in a moment that I want to use it as my background. I trimmed it down to be slightly smaller than my card base to make my layout a bit more interesting. Next, I used some white paper that is also included in the kit, to make two snowy hills. I can't really make a card without a sentiment, so I just stamped 'party animals' at the bottom of one of the hills and I love the result.
I felt like a card needs just a bit more dimension, so I used some Glossy Accents to make the spots on a giraffe pop out more. The only thing left to do was gluing everything together and the card was all finished!
I hope that you will check out the Pink and Paper September 2017 Card Kit because I totally love it! Can't' wait to see what all of you guys will create! :)
Hugs, Kaja (kajcyika crafts)
Don't forget the follow Kaja on Instagram, Facebook, YouTube and check out her blog as well.