Thank You Card with October Card Kit
10/10/2017 02:46:11 PM
Hi Fans! Please, welcome Vladka Serbinek our October Card Guest Designer. She is sharing beautiful card this month on our blog using the Pink and Paper October 2017 Card Kit. To get to know her better, I have asked few questions. Flóra
Tell us a little bit about yourself and how you got started with crafting:
My name is Vladka and my blog is called Ustvarjalna skrinja or "Creative Chest" in English. Actually, before I started creating cards I could not describe myself as a craft person. I didn't craft as a child a lot, more or less I just loved to color the color books. So, some circumstances and coincidences lead me to the great world, where imagination has no limits and where I can tell stories with the paper. And I'm really proud that I'm part of this world since 2009, when I started also with my blog.
Why do you like cardmaking the most?
It is so fascinating what you can do out of blank paper and some craft supplies. I do have ideas in my head, but I'm surprised every time when card is finished. For me, this is the way to tell people little stories and to share kindness with them. When I'm in my craft room is like being in the other world where I can be totally relaxed and where I can clear my head through creativity. And last but not least, through cardmaking I meet a lot of great people and I'm really thankful for this.
Who are your favourite cardmakers?
It is hard to answer this question. There is a lot of cardmakers which inspire me with their techniques or designs or ideas. This community contains a lot of great cardmakers inside my country and also in other countries.
What are your top 5 favourite products and tools?
I love my Fiskars paper trimer, is the great toll ever. And of course Sizzix Big shot and dies which make my live easier. I'm also in love with distress inks since I get my first one – Vintage Photo. Recent time my passion are also watercolors and watercolor markers.
Show us your three favorite cards you created! 

Hello and welcome! This is Vladka and you saw me working with products from Pink and Paper shop before, but this time I'm using great October 2017 Card Kit. Actually this is my first Card Kit and I'm so excited to use it. Let me show you all the goodies in the kit first:
And here is my card, where I used following products from the Pink and Paper October 2017 Card Kit:
-  white Neenah 80lb Classic Crest 8.5X11 Cardstock and made 5,5x5,5 card base out of it and cut additional card panel also 5,5x5,5,
- Pattern paper with wood grain background and with golden tree from Heart Of Home half 6x6 Paper Pad,
- Golden Peach Crisp Embossing Powder and embossed piece of scrap paper and cut little heart out of it,
- Label Sticker with Thank You expression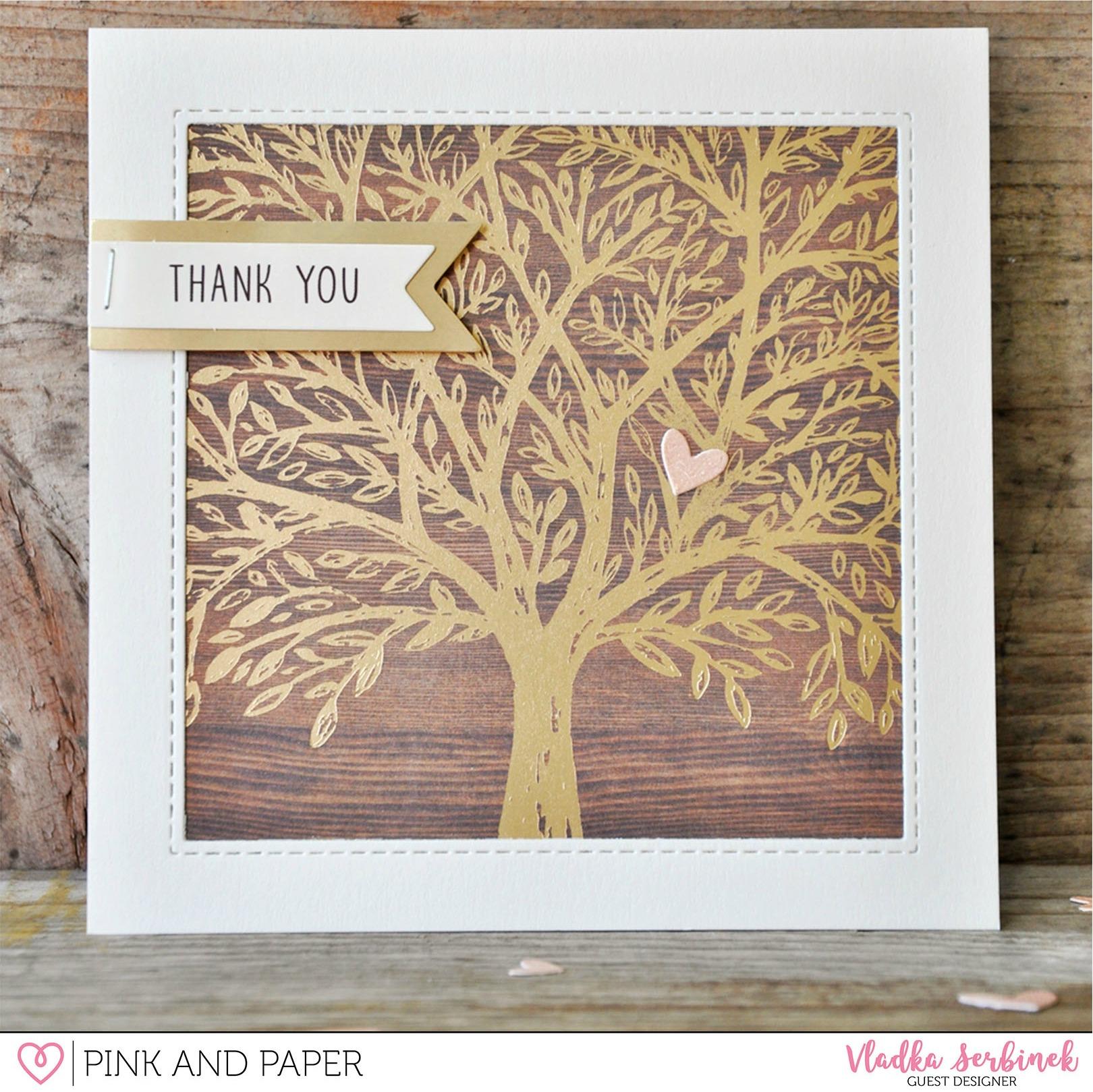 I've cut the rectangle out of the card panel to get the frame and cut off the edges of pattern paper to get 5x5 sizes. I've glued pattern paper on the card base and the frame on top of this. At last I also added the small heart on the tree and label on the left side. Label has 3D adhesive on the back already so you don't need to add additional one.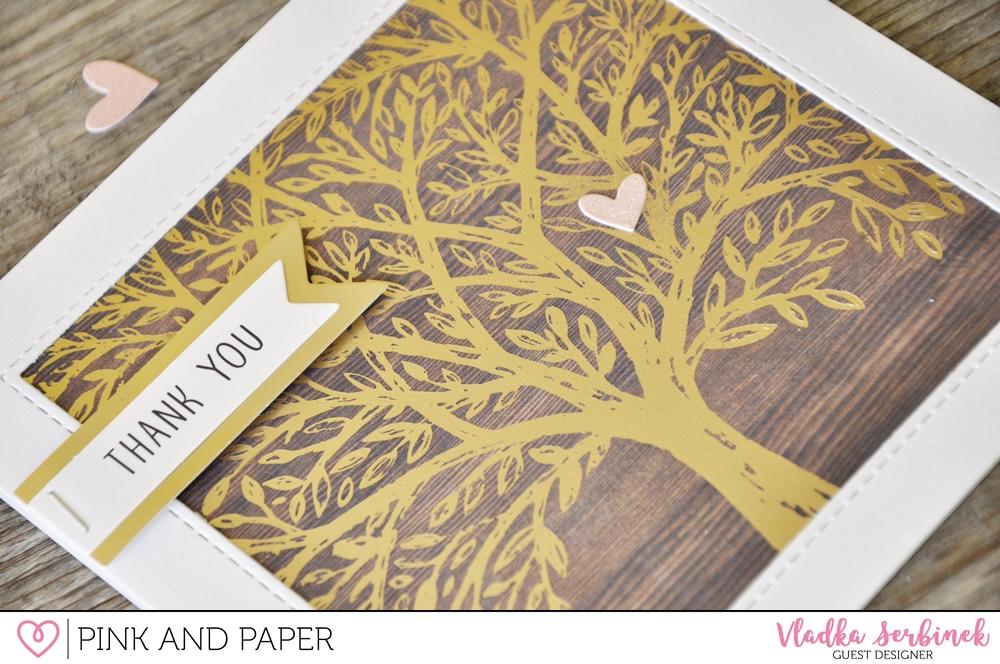 I found out that Card Kit is really great, because color combinations are already prepared and it is so easy to make a card in no time. And pattern papers are so beautiful and you can use them for the background or give them the focus point as I did here with this great golden tree.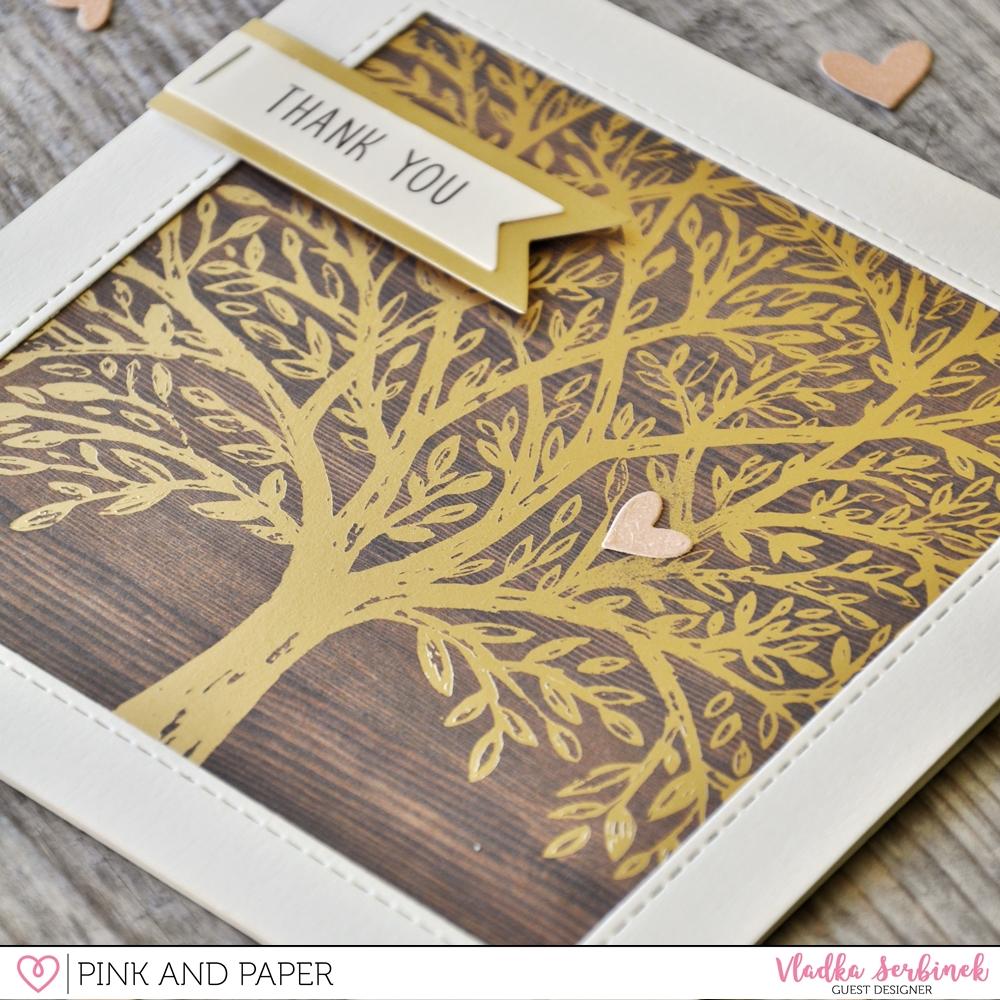 I wish you great week and have fun creating! Vladka
Don't forget the follow Vladka on Instagram, Facebook, YouTube and check out her blog as well.